| | |
| --- | --- |
| | USE Virtual Private Networks ( VPN ) TO PROTECT YOURSELF FROM ONLINE HARASSMENT, POTENTIAL LAWSUITS, AND DISABLE P2P THROTTLING. |
Configure VPN Connection Introduction on Mac OS X10.4.x
( Configure VPN Connection Introduction on Windows XP or Windows 2000 Click Here )
( Configure VPN Connection Introduction on Windows Vista Click Here )
( Configure VPN Connection Introduction on Mac OS X 10.5.X Click Here )
( Configure VPN Connection Introduction on Linux OS Click Here )
In this article we will learn how to configure a connection to a virtual private network (VPN) using Mac OS. This article will show you how to create a new VPN connection using Mac OSX. By creating an encryption tunnel through the Internet, data can be passed safely.
VPN Overview
A VPN is a private network created over a public one. It's done with encryption, this way, your data is encapsulated and secure in transit – this creates the 'virtual' tunnel. A VPN is a method of connecting to a private network by a public network like the Internet. An internet connection in a company is common. An Internet connection in a Home is common too. With both of these, you could create an encrypted tunnel between them and pass traffic, safely - securely.

If you want to create a VPN connection you will have to use encryption to make sure that others cannot intercept the data in transit while traversing the Internet. Mac OS provides a certain level of security by using Point-to-Point Tunneling Protocol (PPTP) or Layer Two Tunneling Protocol (L2TP). They are both considered tunneling protocols – simply because they create that virtual tunnel just discussed, by applying encryption.
Configure a VPN with Mac OSX
If you want to configure a VPN connection from a Mac OSX client computer you only need what comes with the Operating System itself, it's all built right in. To set up a connection to a VPN, do the following:

1. In the Finder, click Go - Applications.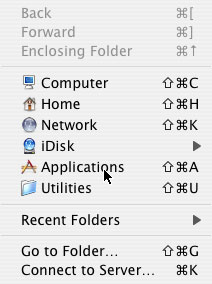 2. Open the Internet Connect program from the Applications window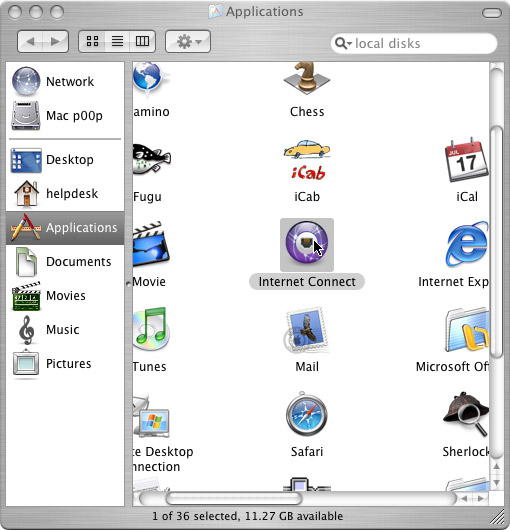 3. On the menu bar select File - New VPN Connection
4. Click PPTP and then Continue
5. Enter IP address of our VPN server that we provide to you for the Server address and your VPN username and password, tick the Show VPN status in menu bar box
6. To connect to the VPN server click the Internet Connect icon in the menu bar and select Connect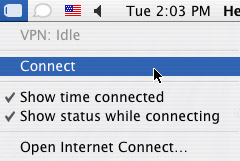 7. While you are connected you will see the duration next to the Internet Connect icon in the menu bar
8. To disconnect, click on the Internet Connect icon in the menu bar and select Disconnect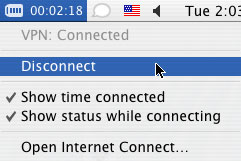 10. You only need to set this connection up once but will need to use this connection every time you want to use the vpn connection.
Copyright © 2007 by VPNGates.com All Rights reserved.